Summa S One D60 Plotter 600mm
Brand: Summa
Product Code: SUM-S1D60
Availability: Pre-Order
---
Summa S One D60 Desktop Cutting Plotter 600mm
The S1 D60 is Summa's smallest vinyl roll cutter and represents the ideal cutting solution for startup sign makers who want to automate their cutting workflow and extend their cutting applications. This handy-sized roll cutter might be small, but shows you great performances, day in day out.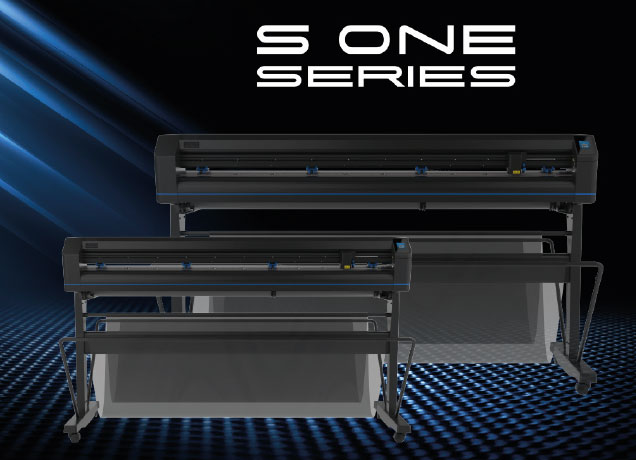 Key Benefits
• Advanced cutting technology
• Ergonomic Design
• User-friendly features
• Latest alignment methode
• Legendary tracking performance
• Connectivity options
• Summa GoSign software
Ideal to cut:
• Reflective, holographic, mirroring materials
• In- and outdoor signage
• Traffic signs
• Safety indications
• Vehicle and window lettering
Media Add-Ons
The smallest S1 D60 model can be equipped and retrofitted with an optional stand or stand + basket.
The mesh basket collects the cut media, preventing dust and debris from sticking onto the media. The basket also neatly organizes vinyl and other media when processing multiple jobs.
• Optional stand only
• Optional basket only
• Optional stand + basket
• Optional Tray One sheet feeder
Smart Features
The S One cutter is standard equipped with a range of convenient features, adding to the production efficiency and guaranteeing a perfectly cut product without hassle.
Enjoy an automated workflow and ease-of-use:
• Drag knife technology
• Coloured touchscreen
• Up to 600 gr of knife pressure
• Cutting accuracy with OPOS Xtra alignment
• Automation with the barcode workflow
• Up to 8 m tracking garantueed
• FlexCut (cutting through)
• Connectivity: USB, Ethernet & WiFi (region dependent)
• Summa GoSign software
• Optional Tray One Sheet feeder: facilitating the processing of sheets and labels through automation
Cutter Specification
Max. Cuttable Area
650 mm x 50 m
Loadable Width
Max. 670 mm
Max. Cutting Force
0 to 600 gr
Max. Cutting Speed
1131 mm/s (diagonal)
Interface
Ethernet, USB
Memory
16 MB
Command Language
DM/PL, HP-GL, HP-GL/2
Dimensions
Approx. 97W x 40.6D x 30.4H (cm)
Warranty
2 Year on-site