Craft Vinyl Cutter Plotter
The Graphtec CE Lite-50 Cutting Plotter brings Graphtec's market leading cutting technology to a whole new audience.
The CE Lite-50 offers the user an extremely high cutting quality, added productivity over a craft level cutting plotter and added cost-effectiveness. The CE Lite-50 has been aimed at small business owners who want to take the next step with their quality of production output and small shops where production on site is key. The CE Lite-50 is best suited to businesses where original good are produced and works best with materials such as heat transfer material, automotive vinyl and sign writing vinyl with a maximum job width of 508mm.
Graphtec CE Lite-50 Cutting Plotter: What's Included
AC Adapter
Standard Blade
13 inch Carrier Sheet For Sheet Fed Material
Cross Cutter
Rolled Media Feeder
Blade Tip Cap Tool – For Removing Edge Of Blade
1.5m USB Cable
Setup Manual
Safety Manual
Graphtec CE Lite-50 Cutting Plotter: Main Features
Intuitive Operation By 4.3 inch Touch Panel – The CE Lite-50 features intuitive and easy to use option by including a 4.3 inch touch panel.

USB Offline Operation – By using cut data saved in the USB memory you can easily cut without using a PC attached.

High Productivity For Business Use – With a maximum mountable media width of 508mm (20 inch) the CE LIte-50 efficiently produces art for your business.

Supports Sheet & Roll Type Media – Continuously cut rolled media designs up to 3m long using the included roll media feeder with a guaranteed cut accuracy of 1m.

Graphtec CE Lite-50 Cutting Plotter: Print & Cut
ARMS Print & Cut – Using ARMS Print & Cut, the plotter detects registration marks on the media to accurately align the position of the cutting line to the printed image. ARMS7.0 is able to detect marks on a media with various color surface.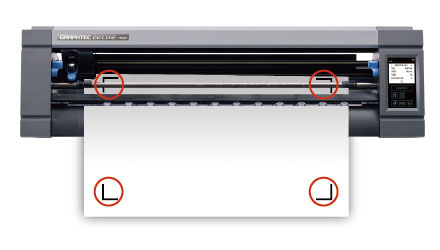 Simple Print & Cut – When using sheets, the CE LITE-50 finds the edge of the media and aligns the position of the contour cut line to the printed image without registration marks. (Must use a standard size) The maximum cutting area can be utilized regardless of color or shading of media because registration marks do not need to be printed.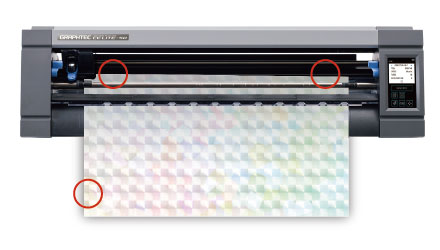 Cutter Specification
Max. Cuttable Area
498 mm x 3 m
Loadable Width
Max. 508 mm Min. 210 mm (A4 portrait orientation)
Max. Cutting Force
210 gf (2.1 N)
Max. Cutting Speed
500 mm/s (All directions)
Interface
USB2.0
Command Language
GP-GL / HP-GL emulation
Dimensions
Approx. 784W x 227D x 164H (without roll media stocker)
Graphtec CE Lite-50
Brand: Graphtec
Product Code: GR-CE LITE-50
Availability: In Stock
Related Products